Heaven Crawley, Coventry University.
As hundreds of thousands of asylum seekers make their way to Europe from dangerous, war-torn countries, Heaven Crawley examines the current refugee crisis for Escapism Magazine, explaining exactly what the situation is in the UK and beyond, and highlights why it's absolutely crucial that we act now to welcome and support refugees.
Since January this year, nearly 880,000 men, women and children have made the dangerous journey across the Mediterranean and Aegean seas looking for a new life in European countries. Images of families enjoying their summers in Italy and Greece have been replaced by photos of overcrowded dinghies arriving on the beaches of Sicily, Lesbos and Kos. As winter descends across Europe, these images look likely to be replaced by photos of cold refugees on a journey through the Balkans looking for protection and a place to rebuild their broken lives
Over the summer these scenes have divided Europe. While many people have rallied to provide humanitarian support, gathering clothing and raising funds for those in need, others have expressed deep concern about the scale of migration, about the impact on communities and about the threat to our security. Some political leaders have shown their support for those fleeing conflict, others have set about building fences to keep the refugees out.
While the current crisis should not be underestimated, it is not the first time that hundreds of thousands of people have been on the move looking for a better life for themselves and their children. Many of today's scenes are reminiscent of the last major period of unrest in Europe when conflict ripped apart the former Yugoslavia in the 1990s leading not only to the creation of more than half a dozen new countries but also the displacement of huge numbers of people, including 1.2 million Bosnian refugees, some of whom were provided with protection in the UK and elsewhere.
In this context we need to make sure that we do not allow fears about what the refugee crisis represents to override our concern for our fellow human beings who are bearing the brunt of complex geo-political struggles.
We can educate ourselves about what is going on rather than believing everything we read, hear or see in a lot of mainstream media. We can join a local refugee support group to befriend and mentor those refugees who make it to the UK. We can lobby our local authority and politicians to resettle more refugees from Syria and elsewhere so they don't end up making the difficult and dangerous journey into, and then through, Europe.
What we see and hear can feel overwhelming. It can feel like we can't make a difference. But as every refugee will tell you, the comfort of strangers can be a powerful antidote to the pain of being forced to leave your home, your family and everything that is familiar.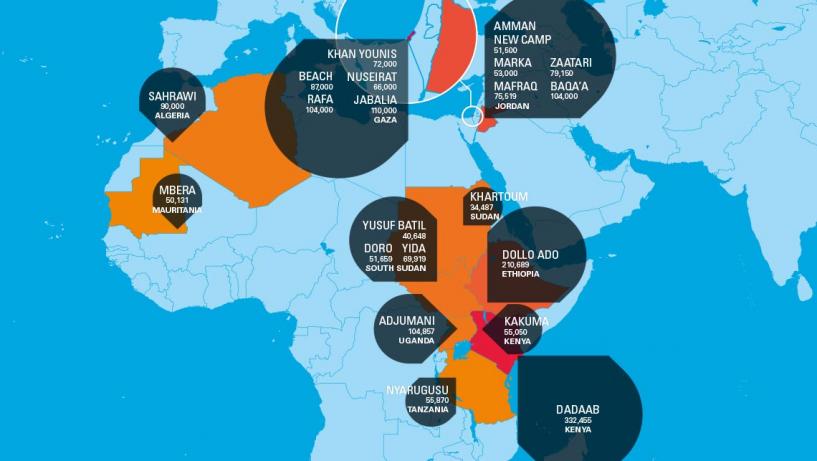 Largest refugee camps. Produced by Escapism Magazine. Sources: Population estimates, CIA World Factbook; refugee estimates UNHCR/UNRWA. Data extracted 20th Nov 2015.
The full text can be read on Escapism.